Sports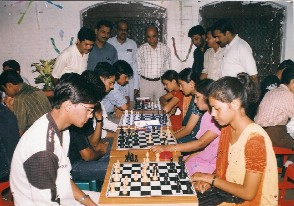 The college has a glorious history in all areas and a major contribution in the field of sports. Right after its commencement, the college has been participating in the sports events and meets at university level, including hockey, cricket, football and athletics.
Isha Mohammed captured a place in University sports 1934-36. Yogesh Chandra Banerjee, who became secretary of "Jabalpur District Hockey Association", gave lot of encouragement to promote our national game "Hockey". This tradition is still followed by our present sports officer.
In 1940, under the dynamic leadership of Shri K. K. Dubey our college team stirred the sports world by winning "Darbar Trophy" for cricket. Shri K. K. Dubey later became Judge of High Court and has been appointed Chairman of various enquiry commissions. One of the students of this college –C.T. Sarvate, became the Captain of Indian Cricket Team from 1946-48, and led the team to various places in England and Australia. A very famous all-rounder sportsman Shri S. K. Thubey, became first secretary of Madhya Pradesh Olympic Association, later also became first secretary of Indian Kabbadi Federation. The then Industry minister in M.P. Govt. – Shri Parmanand Bhai Patel, contributed greatly towards cricket being an acclaimed Ranji Trophy player and in 1958 played a match against West Indies.
Cricket and Hockey fans cannot forget the famous voice of Shri S. N. Shukla, who has been a student of this college who also earned a name as an Umpire of International repute. He participated as a Judge in Asian Sports Meet in 1974 organized at Tehran. Shri Chhote Singh Rathore famous Hockey player of this college got the privilege of being secretary of Indian Fencing Association also appointed as an observer for Asia Olympic, 1974. Ms. Madhu Yadav, Arjun Award winner presently working as sport officer in Central Railways, also Secretary of Mahakaushal Women Hockey Association, has been our student. Presently Ku. Neetu Thakur won Bronze medal in the National Tournament (Kerala) for Boxing. Sports Authority of India, New Delhi has provided sports scholarship to Ku. Neetu Thakur. Ku. Reena Jain represented M.P. in "International Karate Meet", organized in Hongkong. One of our student Ku. Nidhi Tiwari attended Indian Volley Ball Coaching Camp and got selected for International Volley Ball meet , organized in Srilanka.